Selfy's Big Surprise



Start Date

Thursday, April 1st, 2010

End Date

Thursday, April 1st, 2010 - 11:59 PM (PDT)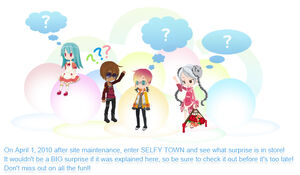 Selfy's Big Surprise is a one-day event on April 1st (April Fool's Day) where selfys are either tiny or giant upon entering SELFY TOWN. Each account is programmed beforehand and is random whether the selfy is tiny or giant.
Info Page
On April 1, 2010 after site maintenance, enter SELFY TOWN and see what surprise is in store! It wouldn't be a BIG surpsise if it was explained here, so be sure to check it out before it's too late! Don't miss out on all the fun!!
External Links