The TinierMe STAMP RALLY



Start Date

Thursday, December 25th, 2009

End Date

Thursday, January 14th, 2010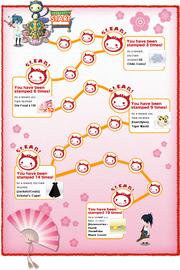 The stamp rally is an event to encourage users to log in every day. Logging in at least 19 times is needed out of the 21 days during the duration of the event. Because of maintenance happening at 1:00AM PST (one hour after a day ends), the extra hour allowed a possible one extra stamp. Prizes could be found in users' closets immediately after getting the necessary amount of stamps on the stamp board.
Prizes
3 Stamps
6 Stamps
9 Stamps
14 Stamps
19 Stamps
Rules
The items received during the Stamp Rally will be automatically placed in your Closet.
Users will be stamped by not being on the site, but by LOGGING IN for each day. (Ex. Users logged on to the site MUST log out and then log in again after 0:00AM PST to be stamped for the next day)
External Links