TM Mission #4649 Event



Start Date

Thursday, March 11th, 2010

End Date

Thursday, April 1st, 2010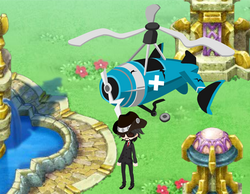 This event coincides with the Secret Agent Selfy Gacha, where an Agent has crashed his plane in SELFY Town. He needs chibi coins to help repair his plane and in return, he gifts you with a Desert Jewel Ruby, which can be exchanged for event-exclusive items on the main site's event page.
After earning at least 120 chibi coins in a day, you can get one Desert Jewel Ruby from the Agent for each day during the event. He can be found at Selfy Town in Fountain Square 2.
Note: For Mission #1, the chibi coins needed will not be removed from your account. But when exchanging items in Mission #2 and Mission #3, the items will be removed from your closet.
Mission #1
After earning at least 120 chibi coins per day, you can obtain a Desert Jewel Ruby that can be used for event-exclusive items.
Mission #2
Only a total of 5 Desert Jewel Rubies are needed to obtain the Black Shades and Winter Sky Fur Blouson.
Mission #3
After obtaining 5 Desert Jewel Rubies and the Attache Case Silver from the male or female gacha from the Secret Agent Selfy Gacha, all 6 items can be exchanged for the action item, Analysis Sunglasses.
Rules and Regulations
Users may only obtain the Desert Jewel Ruby from the Agent if they have earned the required 120 Chibi Coins that day. Users may only receive the Desert Jewel Ruby once per day from the Agent.
Please be aware that the required items needed will be automatically removed from your closet once exchanged.
Users cannot claim these items after the event has ended.
External Links
Community content is available under
CC-BY-SA
unless otherwise noted.